Main content starts here, tab to start navigating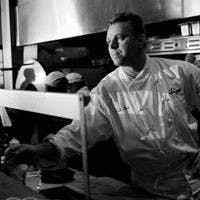 Charles Clark
Executive Chef
Restaurateur Charles Clark is widely admired for his international culinary experience, impressive knowledge, colossal energy, stint on Food Network's "Iron Chef America" and head-spinning list of accolades. Alongside business partner Grant Cooper, the duo has launched four top-of-the-chart restaurant ventures through Clark Cooper Concepts and has consistently garnered local and national praise.
Clark's rise to the top tier of Houston's culinary talent dates back to humble beginnings and modest, small-town Louisiana roots. There, his parents instilled a hard work ethic and adherence to strong morals, which Clark has embraced throughout his career. Beginning with an apprenticeship at an iconic Texas restaurant, he also racked up first-hand experiences with exemplary culinary techniques in France, Italy and Spain.
Upon his return to the United States, Clark achieved top honors as a credentialed chef and today ranks as a highly respected restaurateur. With a uniquely unpretentious high style, Clark's culinary experiences and tenure in the kitchen are melded with Cooper's business savvy to create trends that mirror the open kitchens that both Clark and Cooper enjoyed during childhood and front-of-the-house early-career positions. Ibiza Food & Wine Bar, like its namesake island off the coast of Spain, bustles in Midtown with a confluence of sophisticated Houston style setters.